About the Tokyo Wan Aqua-Line Expressway
About the Tokyo Wan Aqua-Line Expressway
The Tokyo Wan Aqua-Line Expressway is a 15.1 km toll road crossing through the middle of Tokyo Bay connecting Kawasaki city in Kanagawa prefecture and Kisarazu city in Chiba prefecture.
[Project Overview]

Road Name: Tokyo Wan Aqua-Line Expressway
Road Number: National Highway No.409
Area: From Ukishima, Kawasaki-ku, Kawasaki


to Nakajima, Kisarazu


Road Length: 15.1 km
Carriageway: Dual 2-lane
Design Speed: 80 km/h
Total Construction Cost: Approx. 1.44 trillion


yen


Date Opened: Dec. 18, 1997
___:Under construction
Source: Ministry of Land, Infrastructure, Transport and Tourism website
As of Dec 2018
One of the world's largest marine construction projects
After approximately 20 years of surveys and 10 years of construction, the Tokyo Wan Aqua-Line Expressway opened to traffic on Dec. 18, 1997.
From design to execution, its construction represented a convergence of state-of-the-art technologies and know-how of the time. Many new technologies and construction methods were developed and implemented, and its construction was also referred to as the "Apollo project of civil engineering." Engineers had to overcome a vast variety of challenges, ranging from the soft soil of the sea floor to natural conditions such as wind, tide, and earthquakes, as well as marine traffic and environmental conservation in Tokyo Bay.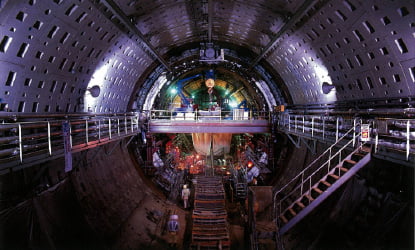 Undersea tunnel (Aqua Tunnel) construction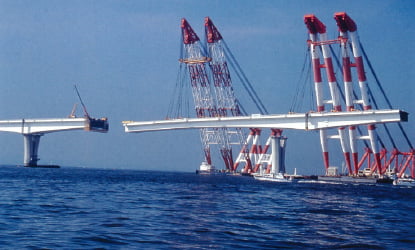 Bridge (Aqua Bridge) construction
Tokyo Wan Aqua-Line's construction
The Tokyo Wan Aqua-Line Expressway consists of two-10km long tunnels (Aqua Tunnel) under Kawasaki waters and a 5 km long bridge(Aqua Bridge) over Chiba waters with two artificial island in between. Japan's first marine rest area "Umihotaru" is an artificial island constructed to shift the expressway from the tunnels to the bridge.
There is also a tunnel ventilation tower callded "Kazenotou (Tower of Wind)," on the artificial island in the mid-section of the undersea tunnel and a pyramid shaped Ukishima Ventilation Station near the tunnel entrance on the Kawasaki side.
The toll booth is located on the Kisarazu side.

[1] Ukishima Ventilation Station

This was designed as a large square pyramid to make it blend in with the scenery of the Ukishima area and also to ensure visibility. The building is a symbol of the Tokyo Wan Aqua-Line Expressway viewed from on the Kawasaki side.

[2] Tunnel sections

The approximately 10 km section on the Kawasaki side has to cut across waters with large volumes of marine traffic and therefore consists of an undersea tunnel.
The two undersea tunnels―one each for incoming and outgoing traffic―have a diameter of 13.9 m, are approximately 10 km long, and located 60 m below sea-level at the deepest point.

Shield machine

"Aqua Tunnel" is a tunneling shield road ,which was jointed in the ground by excavating the sea bottom from its both sides.
For the tunnel excavation, closed face cylindrical type huge shield machines with an aperture of 14.14 m in diameter weighing 3,200 tons were developed.

[3] Kazenotou (Kawasaki artificial island)

This artificial island with its iconic azure-blue and white stripes was built for ventilation purposes. Its design also provides excellent visibility from ships.

[4] Umihotaru (Kisarazu artificial island)

This island was built as a transition point and a rest area between the tunnel and bridge sections. It features resting facilities including restaurants and kiosks, a parking area, as well as operation and control facilities.

[5] Bridge section

This section was designed to provide the feel of smooth continuation with an emphasis on blending in with the seascape. Curves were incorporated into the bridge beam and bridge pier to give them a gentle impression.
Impact after opening
Whereas users traveling from the Keihin area in Kanagawa to the Boso area in Chiba previously had to drive for nearly half the circumference of Tokyo Bay, travel times were considerably shortened after the Tokyo Wan Aqua-Line Expressway opened to traffic.
For example, the driving distance from Haneda Airport to the Kisarazu junction is approximately 60 km shorter in distance, and about 45 minutes shorter in driving time.
It also provides alternative routing options during disasters and other situations, enhancing the functions of the expressway network in the Tokyo Metropolitan Area.
Comparison of travel times from Haneda Airport to Kisarazu JCT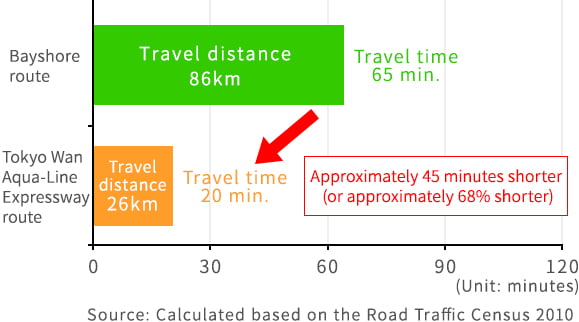 <Drive route from Kisarazu JCT to Haneda Airpor>
○Bayshore route

Kisarazu JCT → Miyanogi JCT → Haneda Airport IC

○Tokyo Wan Aqua-Line Expressway route

Kisarazu JCT → Kawasaki-ukishima JCT → Haneda Airport IC
The Tokyo Wan Aqua-Line Expressway plays a critical role in promoting inter-regional exchange between different regions of the Tokyo Metropolitan Area.
https://www.e-nexco.co.jp/activity/agreeable/detail_08c.html
We are holding a tour to deepen our knowledge of The Tokyo Wan Aqua-Line.
In order to deepen the knowledge of The Tokyo Wan Aqua- Line Expressway by more people, we offer tours that guide safety measures such as evacuation facilities in undersea tunnels that are not open to the general public.
The Tokyo Wan Aqua-Line Expressway is now open to the public as part of the efforts of the NEXCO EAST and the Trans-Tokyo Bay Highway Corporation in observing the "Opening attractive public facilities and infrastructure" policy being promoted in accordance with the national government's "Tourism Vision to Support the Future of Japan"
Related information